Yant Grao Paetch (Diamond Armour Yantra)
Luang Phor Parn found the hidden mystery of Yant Grao paetch (Diamond Armour Yant/Kata) – Consisting of The Kata Ithibisoe 8 Tidt (Eight Directional Mantra) – Without Yant Grao Paetch it would be impossible for many other Yant to exist, due to the fact that many other Yant contain the same Kata (Mantra) inserted within their structure.
Hlwong Por Parn found this great Kata as he was meditating and a Yaan (or Yana in Pali Panskrit), meaning supernatural sense,occured in his meditation.It told him that there was a special magical metal template hidden within the main Chedi of Wat Phra Sri Ratana Maha Taath, Supannburi province, waiting for him to discover. Not long after that he reached the Chedi and found a ancient silver template engraved with the Kata of Yant Graopaetch. The template had a message explaining that the person who found it shall be a great Master, and that Heaven had defined who should find it.
The Template also describes that one who recites this Kata everyday shall have his body covered with a Diamond Armour and will be protected from all dangers, he shall never be able to be destroyed by his enemies. In addition, the enemy will be destroyed through a strange phenomenon because of the reflective result from the magic Diamond Armour ! A Sang Wi Su Loe Bu Sa Pu Pa
It is the 9 syllable Kata which is also a formula in magic square for I thi Pi Soe. I have tried to make the inter-relatedness between this most powerful of Sutras and the Sacred Yant by looking at the Kata contained within Diamond Armour (and indeed many other Yant, such as Paed Tidt, Paed Daan, Dork Bua etc) in different ways. Diamond armour is a popular Yant as a tattoo, and is applied by various Samnak Sak, and Ajarn Sak Yant, Including all the Wat Bang Pra Monks, Luang Pi Pant, Ajarn Noo Ganpai, Ajarn Anek, Ajarn Bpum (Wat Sala Daeng) and many more. In fact, most Samnak will use this Yantra in their Pantheon these days, as is also the case of course with Yant Gao Yord, which is the Yant Kroo of most Samnak Sak Yant.
The originating temple of this Yant (Wat Bang Nom Kho) is no longer known for Sak Yant Tattooing, but still has the blowing of Yant Grao Paetch Ceremony as a sacred blessing, which is a ceremony i recommend greatly.
The Sak Yant tattoo of Yant Grao Paetch on the left is made by Hlwong Pi Pant in Wat Koh Poon temple in Chaiyo province, Ang Tong. I shall be adding more and more photos of tattoos fo Diamond armour by different artists here as i collect them, in order to have a gallery at some point to browse the different styles of each master.
Rules of Yant Grao Paetch
My synopsis of Yant Grao Paetch (Diamond Armour Yantra) is below – this Kata is the basis for almost all the major central Yant designs – especially those that serve as a hub for the peripheral sub yant and sacred Na to accompany.  A thorough understanding of this Kata and the structure, will increase one's understanding of all Yant in general;
A means Arahang

Sang/sam means Sammaa Samputto

Wi/Wich means Wichaajaranasambano

Su means Sukadto

Loe means Lokawitu

Bpu means Bpurisatammasaarati

Sa means Sathaa Taewamanussaanang

Pu means Puttoe

Pa means Pakawaadti
Leading to form the mantra I Dti Pi So;
I Dti Bpiso Arahang Sammaa Sam Puttoo Wichaa Jarana Sambpanno Sugadto Loka Wituu Anudt-Dtaro Bpurisa Tamma Saarathi Sadthaa Taewa Manussaanang Putto Pakawaadti.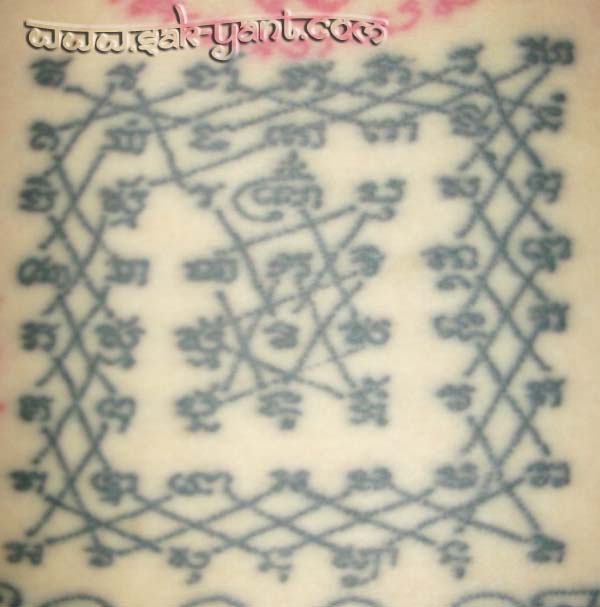 The below version is called I Dti Bpi Soe 8 Tidt (Paed Tidt) – if you read it vertically top to bottom and each column left to right, you will see it reads I Dti Bpi So. If you read it Horizontally left to right top to bottom, then it reads the same as Yant Gratuu Jed(7) Baeg.
Kata Yant Grao Paetch – Diamond Armour Yantra Spell (Incantation)
I Ra Chaa Ka Dta Ra Saa

Dti Hang Ja Dto Ro Ti Nang

Bi Sam Ra Lo Bu Sa Put

Soe Ma Na Ga Ri Thaa Toe

Pa Sam Sam Wi Sa Tae Pa

Ka Put Ban Tuu Tam Wa Ka

Waa To Noe A Ma Ma Waa

A Wich Su Nut Saa Nu Dti
Each of the horizontal Lines is a Kata to protect you travelling in one of the eight directions. For Example; Waa Toe Noe A Ma Ma Waa is the Kata you must Chant when making a journey Northwards.
I have put the corresponding direction (tidt) after each line in the below text
I Ra Chaa Ka Dta Ra Saa EAST (YANT GRATU JEDBAEG)

Dti Hang Ja Dtoe Roe Ti – Nang SOUTHEAST

Bpi Sam Ra Lo Bu Sa Put – SOUTH

So Maa Na Ga Ri Thaa To – SOUTHWEST

Pa Sam Sam Wi Sa Tae Pa – WEST

Ka Put Ban Tuu Tam Wa Ka – NORTHWEST

Waa To No A Ma Ma Waa – NORTH

A Wich Su Nudt Saa Nu Dti – NORTHEAST
Here it is in horizontal too.
I DTI BPI SO

PA KA WAA

A RA HANG

SAM MAA SAM PUT TOE

WICH CHAA JA RA NA SAM BPAN NO

SU GA DTOE LOKA WI TUU

A NUDT DTA RO

BPU RI SA TAM MA SAA RA DTI

SADT THAA TAE WA MA NUS SAA NANG

PUT TOE PA KA WAA DTI
The Yant Grao Paetch is used also for Amulet Inscription as well as for Yantra Cloths and Takrut Scrolls which are inscribed upon leaden or metallic Yantra Foils. Below is a Leaden Yantra Foil with the Sacred Yant Grao Paetch inscription, ready for rolling into a scroll which is worn as a tubular amulet either on a neck chain or on a cord around the waist.