Ajarn Anek – Ruesi Phu Dam – Ruesi Dtaa Fai
Samnak Sak yant Ajarn Anek – ????????????? ?. ???? ???????? – ????
Who is Phu Dam
Phu Dam died in the late 1970's after reaching the third level of enlightenment, thus elevating him to the status of Buddha, ardent devotees of Archarn Anek believe that when he creates a Sak Yant for you, it is Phu Dam guiding his hand.


Archarn Anek's body is heavily tattooed, all of these tattoo's where created by Phu Dam, and was Phu Dam's "apprentice", upon his death the status of "Master" was passed on to Archarn Anek, and over the past 30+ years he has become a true master in every sense.
Archarn Anek is highly regarded and even revered throughout Thailand, devotee's have been known to travel from as far afield as Chang Mai and Phuket to receive a Yant from him.
Before receiving a Yant from Archarn Anek, an offering must be made to Buddha, and after receiving your Yant, both you and your Yant will receive a blessing.
Pickup Service: (Limited English) 089-7581436 Jaan (Pronounced Jarn) (Fee applies)
Speak Thai Only:
Our Phone No is: (Thai) 089-8226515 : 086-8286617
Poo Ruesi Thafai and Phu Dam;  Archarn Anek  – Kindness Tattoo Services (by Hand) ; Na Nha Thong  and Other designs
58/2 Moo 14 Soi 29 Tungglom-Tarnmun, Nongprue District,Banglamung. Chonburi. Thailand
Left; A Western Devotee makes the offering and request for blessings to Phu Ruesi Dta Fai/ Ruesi Phu Dam. This is a preliminary before receiving a sak yant tattoo from Ajarn sak in all offices.
The video below is a clip of Ajarn anek in Chonburi Province tattooing Sak yant. You can easily reach Ajarn by using a print out of the visiting card below in this very post.
His Visiting Card in English and Thai are below;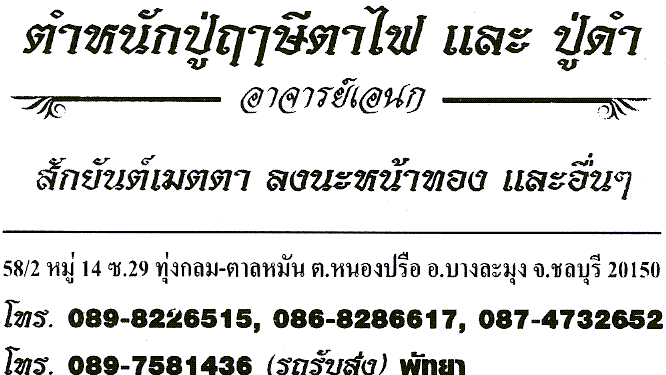 ???????? ?.???? ??????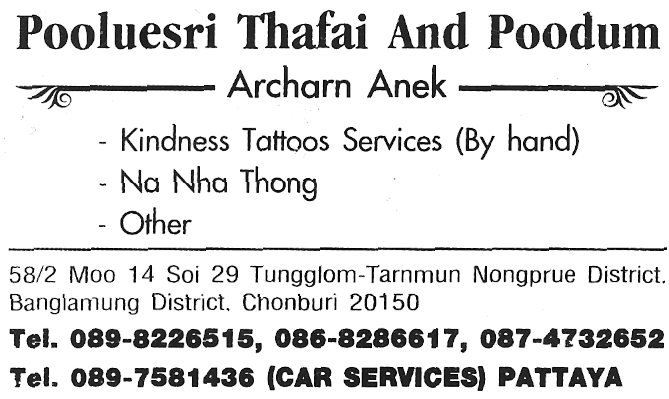 Links;
Poodumtattoo.com (Ajarn's Website)
Ajarn Anek shows a Farang how to chant the Kata to kroo and ask for Metta Mahaniyom.