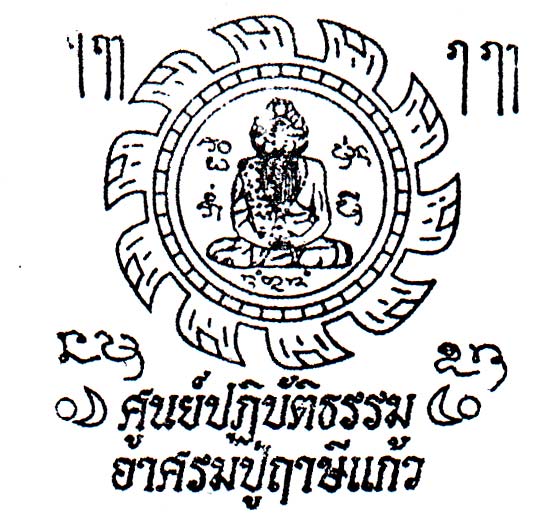 Adress of the Ashram in English and Thai;
Asrom Phu Ruesi Gaew Phatom Muni – Ban Poedtru, Tambon Ban Berk,  Ampher Ta Wung, in Lopburi
?????
????????????????????
???????????? ?.???????? ?.??????? ?.??????
You can contact Phu Ruesi Gaew on one of the below phone numbers – Phone
0814443840, 0818258695, 0818338187
The legend of Ruesi Phu Gaew Chatipoom
Ruesi Phu Gaew Phatomuni Chatipoom
??????????????????????????? – ?????????? ??????????? ??? ???? ???????????????????????? ?????????????????????????????
Go to The Gallery of Ruesi gaew's Wai Kroo (master day) ceremony.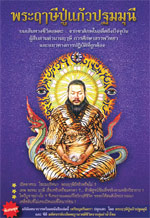 born in 2521 in Ubon Ratchatani. He was noted from a young age for his strangeness. He was ordained at the age of 6 after asking his parents to be ordained, and became a devotee of Luang Phu Mun and learnt with Luang Phu Tet. He also got the chance to go learn from and listen to teachings from Luang Phu Chah of Wat Nong Pha Pong, and Luang Phu Bunmee (Ubon), Luang Phu Proma Khemajaro of Jampasak (laos). After this he got the chance to travel on Tudong to the South and learn with Master Monks in the lineage of the famouns magic monks of Khao Or temple; for example Luang Por Kloy of Chumporn. He also visited and learnt from Luang Phu Doo of Wat sa gae temple, Ayuttaya. He also leanrt from a host of other masters such as Luang Phu Ruesi Ling Khaw and Luang Por Phern of Wat Bang Pra. As he was a young Samanera, he was taken with another 4 Samaneras to khemarat on Tudong to meditate on the banks of the river Mekhong in Nakorn Panom. The a strange occurrence happened; a group of lay devotees (about 30 or 40) approached to pay reverence, and listened to Dhamma teachings until about 10 pm. Once the sermon was over, the devotees raised their hands in reverence to depart. Then they walked away and began to disappear down into the waters of the river mekhong! – One of the spirits (for that is indeed what they were – Naga spirits!), turned around to face the young Samanera and asked if he wished for anything for his goodness to these devas? Such as treasures, gold or silver?  The young Samanera replied that he didn't wish for anything except that the Devas understand and protect the Bhuddha sasana (Buddhist religion).
The man then raised his hands once more in reverence and disappeared down into the waters of the Mekhong. A short moment later, a snake appeared from the banks of the river. The snake was massive and had a crest on it's head. The snake then approached the Samanera and stopped close by, shedding its skin and then slithering out of it. The Snake then spoke to him and said that this gif was for his goodness to the Devas and that it would be of use to the Samanera in promoting faith in Buddhism and that it should be used to make "Watumongkol" (amulet or religious artifacts). The gift of the snake wa of course the much sought after and legendary "Kled Paya nak" (Naga Scales).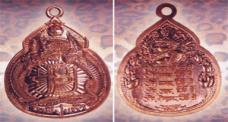 The Naga Scales were kept by Phu Ruesi gaew and are the heritage of the amulet coins he has made (called Rian Dtrinakara), which are given to his disciples when they visit and pay reverence.