Hlwong Pi Pant – Wat Koh Poon
Hlwong Pi Pant – first apprentice of Hlwong Por Phern of Wat bang Pra temple – now resident at Wat Koh Poon in Chaiyo municipality. (google map location further down in this post)
Pics from 2007 – thanks to professional photographer Martyn Goodacre for use of some of the fotos. martyn is such a talented and gifted fotographer.
please visit www.martyngoodacre.com to admire his work.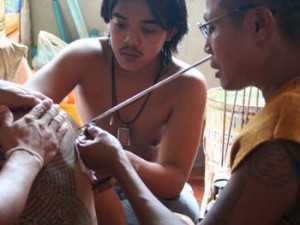 Hlwong Pi Pant is the Monk i have know the longest since i came to Thailand, and in addition, was my first teacher in the mysteries of sak yant, as well as my protector in times of trouble.
Hlwong Pi Pant began to make sak yant tattoos under the training and supervision of his master "Hlwong Por Phern" of Wat bang Pra Temple in Nakorn Chaysri, Nakorn Pathom province. This was about 25 years ago now, and Hlwong Pi is now perhaps one of the longest standing tattooing apprentices of the Master Hwlong Por Phern. His handwork resembles the Master's hand uncannily, and the speed with which Hlwong Pi brings tyhe tattoos to manifestation is equally incredible to watch. His "Metta" (compassion/ loving friendliness) is notable in his obvious concern for the well being of his devotees when they come to visit. Often is he seen to make a coffee and some mango for the devotees to eat and drink whilst waiting for their tattoos. A smiling, laughing friendly joking monks is Hlwong Pi Pant. Instantly likeable, for his open character and humble ways.You can reach Wat koh Poon temple by taking a motoprcycle taxi or taxi from Chaiyo township about 5 kilometers to the temple just print out the info in Thai which i shall be posting at the bottom of this page to give to the taxi and you will arrive safely there with no snags.
Hlwong Pi Pant has his own Wai Kroo and Krorb Kroo Ceremony at Wat Koh Poon . The ceremony is celebrated yearly on a chosen date. Hlwong Pi Pant has managed to maintain his old followers from Wat bang Pra, even though he has moved about 300 kilometers away; many devotees still make the effort to travel to Chaiyo and receive his blessing, which are indeed full of Metta.
This year's ceremony is already over, so keep on your toes for next year's Wai Kroo Hlwong Pi Pant, at Wat Koh Poon temple in Chaiyo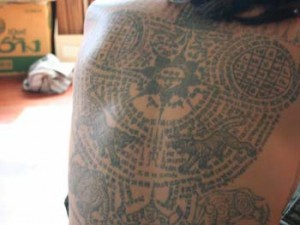 Since HP Pant has been resident at Wat Koh Poon temple, he has managed to slowly raise funds and refurbish both the temple, and improve conditions for the local school. He tirelessly makes sak yant every day to raise funds for refurbishing the surrounding area and improving conditions for the local people every day. Hlwong Pi Pant is not only an excellent sak yant master, but also a down to earth friendly and compassionate monk, who has time for everybody, and treats every visitor with the same courtesy. An Incomparable and inimitable person indeed. he follows the ways taught by his master Hlwong Por Phern to the letter, and never strays from the formula given to him by his master for tattooing sak yant.
Hlwong Pi Pant Spent the first 20 + years at Wat Bang Pra, under his Master Luang Por Phern, until his move to Wat Koh Poon Temple in Chaiyo, Singhburi Province a few years ago. Since his arrival at the delapidated temple there, he has managed to refurbish the Sala and install helpful additions such as a fresh cold and hot water dispensor for the local school which is withing the temple enclave, and is now starting on other projects to imrover and repair the temple there, and also projects to help the local people.
Adress to give to Taxi
พระอาจารย์พันธ์ วัดโคปูน ต.บ้านหมอ อ.ไชโย จ.อ่างทอง
Here is the exact location of Hlwong Pi Pant on google maps

View Wat Koh Poon (Hlwong Pi Pant) in a larger map
Please Donate to help me keep Sak-Yant up and running… i really need any small bit of support i can get as i am always struggling to keep my head above water and am still unemployed, and now have a family to feed too. I can thus not afford to maintain sak-yant.com on my own funds, which are next to nothing.
Above pic; The yant is tattooed freehand, with just a basic grid drawn on roughly in ink using a thin wooden stick.
Above pic;Author of Sak-Yant.com Spencer recieving Sacred Yant from his master HP Pant