Sak Yant Gao Yord
Yant Gao Yord is the Yant Kroo of many of the Great Samnak Sak Yant around Thailand and South East Asia, and is perhaps the most well known of all Sak Yant designs, along with the Yant Paed Tidt eight directional Yantra, and Yant Suea Paen leaping tiger Yantra. With Foreigners, the Yant Gao Yord is certainly the most commonly seen tattoo, far above the leaping tiger, which is usually placed on the chest. Foreigners tend to go more for the more aesthetic looking Suea Koo Maha Amnaj on the flanks of the back, than the big pirate-like leaping tiger on the chest.
The are many different versions of Yant Gao Yord, the most common being formed as a pyramid like structure, but some can also be formed in a flat alignment, such as in the case of the Yant Gao Yord of the Mong Hilltribe People of the Lanna Sorcery traditions of the Northern Regions of Thailand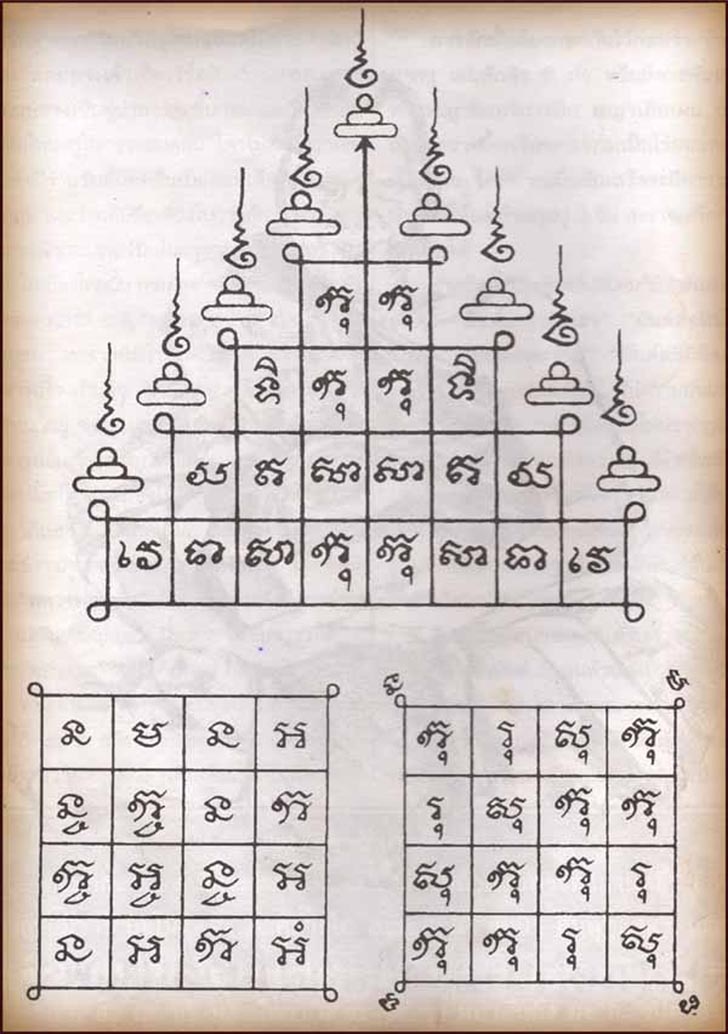 Kata Says;
Gu Ti Gu Ya Ta Saa Wae Taa Saa Gu
Like this;
Gu Gu
Ti Gu Gu Ti
Ya Dta Saa Saa Dta Ya
Wae Taa Saa Gu Gu Saa Taa Wae
The two squares can be or not be tattooed (usually not) one on left is called "Hnun Tat See (4 elements);
Na Ma Na A Nor Gor Na Ga Gor Or Nor A Na A Ga Ang
The square on the right is called "Hua Jai Suea" (tiger heart mantra) says;
Gu Ru Su Gu
Ru Su Gu Ru
Su Gu Gu Ru
Gu Gu Ru Su
This Kata is also performed in different formulas, such as the Kata Gai Thuean Cockerel Incantation.
here is a kata for chanting for wearers of Sak Yant Gao Yord
A Pa Sang Pu Wi Sa Su Bpu Loe A Sang Wi Su Loe Bu Sa Pu Pa Sang Wi Su Loe A Bpu Sa Pu Wi Sa Loe A Bpu Sa Loe Bpu Loe Na Pid Pid Ubpad Na Ya Mi I Sa Put Toe Na Moe Puttaaya Na Ma Pa Ta Ma Pa Ta Na Pa Ta Na Ma Ta Na Ma Pa
In Ajarn. Thoy/Porgae's Gao Yord it is;
"Na Dtang Rue Dtang – Na Putta Sang Mi Na – Na Udt-Tang Adt-Toe A Na – Na Arahang Wae Wae Si Yaa Na  A Sang Wi Su Loe Bu Sa Pu Pa"
Below Pic; Gao Yord as Ajarn Thoy spells it
In Ajarn Noo Ganpai's  version of Yant Gao Yord, it is simply "A Sang Wi Su Loe Bu Sa Pu Bha" which is the Nine Syllable Mantra/Kata
Asangwisulō Busapupa
Below; a Mon (Mong Hilltribe) style version of Yant Gao Yord with Lanna Inscriptions of Tai Yai (Burma-Shan) type Agkhara lettering.