Ajarn Prasit is an Ajarn Sak of Wat Chang Hai lineage based in Hat Yai, South Thailand. I was lucky enough to find a poster on in Hat Yai as i was rushing to do Penang, but unluckily was not able to find time to visit him, which i hope to do next time i go. For now at least i can publish his Contact details, as well as a picture of the poster i saw, which of course i ripped off the wall as i did not have a camera with me at the time. I have seen photos of this Ajarn on the internet in Thai Language forums, and have read several articles by Thai Looksit about him, which were all positive commentaries. Ajarn Prasit is a Looksit of the lineage of Wat Chang Hai temple (famous for Luang Por Tuad amulets). Anyone wishing to visit this Ajarn can print the poster out or print the adress i have written in English and Thai.
Adress; Samnak Sak Yant Ajarn Prasit Sit Chang Hai –  13/8 Moo 3 (at the bridge across from Klong Hae floating Market), Ampher Hat Yai, Songkhla Province. Telephone 0895965411. There is a large sign which says (in Thai) 'Chomrom Sitsaanusit Sit Chang Hai'. meaning 'devotees of Sit Chang Hai (Ajarn Prasit)'.
Print the Thai address beneath out and give to Taxi to ensure getting there.
อาจารย์ประสิท ศิษย์ช้างไห้ ที่อยู่ : อ.หาดใหญ่ จังหวัดสงขลา สำนักอยู่เยื้องกับสะพานปูนวัดคลองแห มีป้ายใหญ่ เขียนไว้ว่า ชมรมศิษย์ยาณุศิษณ์ ศิษย์ช้างให้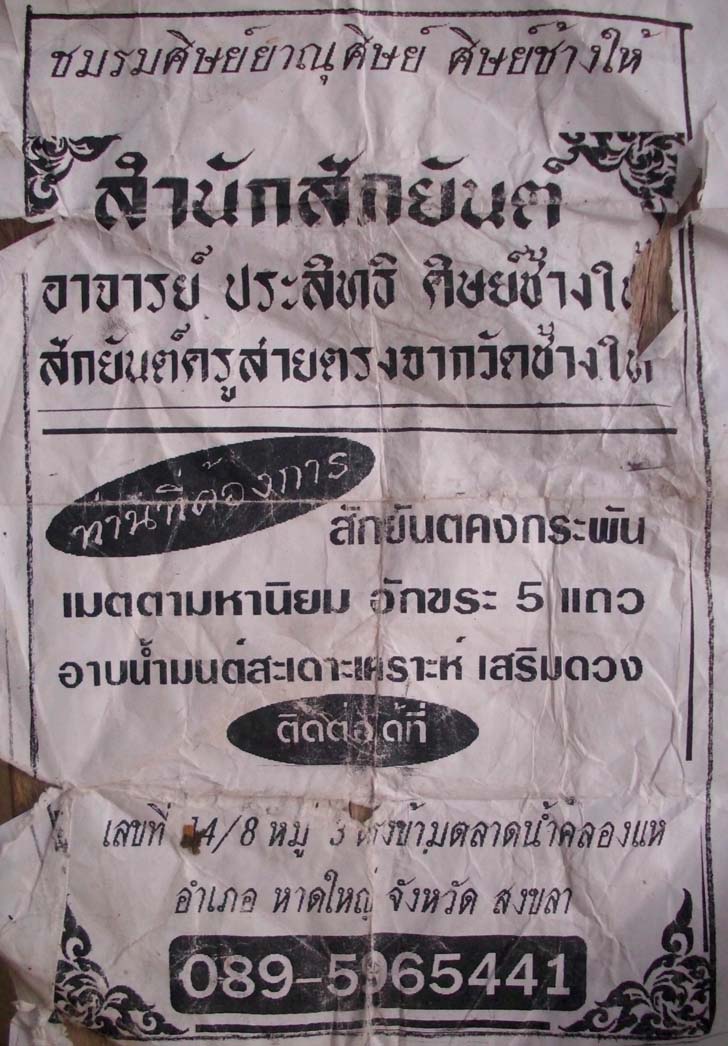 Another Ajarn Sak in Songkhla Province is Ajarn Prapoj Muang Ngam (Hanuman Daeng Noi).
Ajarn Prapoj is a Looksit of the lineage of Hlwong Por Pradit of  Wat Klong Lu (Trang).
Adress; Wat Klong Rien temple, Songkhla Province – Telephone 081 – 540 3974
อาจารย์ประพจน์ ม่วงงาม  (หนุมานแดงน้อย)
เป็นลูกศิษย์ ของ หลวงพ่อประดิษฐ์ วัดคลองลุ จ. ตรัง
ที่อยู่ : วัดคลองเรียน จ.สงขลาThai; สำนักสัก อาจารย์ ประสิทธิ ศิทธิ์ช้างให้ 13/8 ม.๓ (ตรงข้ามตลาดน้ำคลองแห) อำเภอ หาดใหญ่ จ.สงขลา โทรศัพท์ 0895965411