Here is the update on the free food hall for the folk at Wat Suan Manee Sap in Chumporn.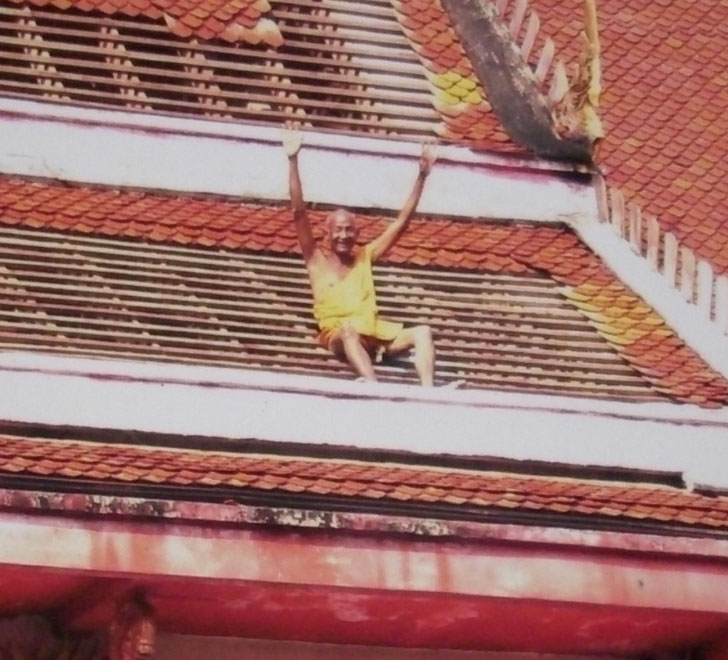 After re-visiting Hlwong Dta Liam at the temple to see the progress and confer on how i can continue to help, I was disappointed to see that only 2 donations had arrived, one which came from a friend who i sent an amulet to after donating.
[ad#300×250-self-wrap]
Luckily, the Thai community do have "Jai Bun" (merit making heart), and progress is slowly occuring. The stretch of land nextr to the lake at the sid of the Temple and connected to the roadside of petchagasem road leading ffrom central to south Thailand which passes the temple has now been cleared and flattened in preparation for the construction of ther food hall. The money is run out in the moment so Luang Dta is waiting for the next funds to arrive to begin construction. he cant begin until a minimum of 100 thousand baht enters the account as he has to buy all the main pillars and beams for the structure. he has now decided to build it minimalistic due to lack of funds, in order to get the job finished. All people who drive past on the bankok to south petchagasem road are invited to park and stop and eat free, be they rich poor large or small. The main problem with fund raising is that Wat Suan Manee Sap temple is not situated with any town or villages around it, and relies on travellers passing through to stop and visit. Because the temple is still in semi construction, rare is it that someone stops and comes up to pay reverence. Luang Dta was in a way unlucky that when the chapel was discovered standing alone and decrepit and deserted 4 years ago, a comittee of 30 monks were sent to gather and meet there to discuss what to do with the place. As the head monk of the comittee asked who was willing to unertake the comission of developing it into a temple, no one put their hand up (because of the obvious difficulty in obtaining devotees due to no villages around). It seemed no one wanted to putin any effort and were frightened to take up the mission. So Hlwong Dta put his hand up and said "Ok ill do it". Since then he has had 2 stokes and broken blood vessels in his brain and hospital 2 times because of overwork and stress. This kind hearted selfless monk who knows no anger is 73 years old and still does things like climb up on the temple roof to fix the tiles.. he has already restored the chapel and the roof  (see pics in this post), doing a lot of work with his own bare hands to save on costs (this is how he had a stroke). I feel so sorry for Hlwong Dta as he is really struggling to get this thing going, and not receiving much help.
[ad#widetextmiddle]
Although i must say and i hope this embarrasses us farang a lot (it should), that some days there are 2 or 3 Thais come up and pray, and on a few occasions Hlwong Dta went to empty the donation box, to find one time someone had put 40 thousand in ther (baht, about 1000 euros) and another time 30 thousand and one time ten thousand.
I find it always embarrassing too when i take farang to temple and see them put 50 baht in the envelope and then see a poor thai farmer come and put 5000 in there. The Thai farmer knows he is making merit
the 50 baht from the farang who maybe goes later to koh pangan and spends a thousand baht a day on weed and even more on disco biscuits only goes to show how he is "Jai Kaep" (kaep means something like when your trousers are too tight – small compressed heart is what jai kaep means). There is no merit when your greed or inability to practise generosity is compressed and to give fifty with a tight feeling in your heart when you can really afford more is no merit at all, its more of a sin than anything as far as i am concered and i feel almost better to give nothing that to surrender to the attachment that says "i know i should maybe give more than this but.. never mind that will do".
Farang have more money to spare than Thais mostly but their donations dont even reach a tiny percent of what the Thai is capable of giving when it comes to donating to temples. There is no point in giving with a choking feeling in your heart, you have to give with complete renunciation, if not the merit is poisoned, as is your heart by feeling alll knotted whilst putting your hand in your pocket.
I ask you all one more time
PLEASE HELP HLWONG DTA LIAM
Below is a gallery of some pics i made at the temple so you can see the progress, and also what an amazing old monk LT Liam is!
Bank details also at bottom of page to send money. Until now i refused to take money as intermediary to give to him but since the recent inc ident of someone keeping a donation for themself, i am prepared to also serve as intermediary. Best if you transfer straight to the temple account though as i am very busyt always, but am prepared to help if necessary. You can mail me on sakyant at the g mail dot com adress if you wish me to hand money over to him personally.. i also send amulets to people who donate with an open heart. The LT Liam amulets, which are LP Tuad on front and LP Piak on back gunstoppers have the original "din Gag Ya Yaks" earth from pattani which were used in the triangular tao reed LP Tuad amulets of fame, as well as deer horn and many opther sacred ingredients. The amulets were buried with a "Look nimit" ball under the earth for one year then taken up and placed under the Buddha in the chapel and had Patimokha prayers chanted into them for 2 years. They are black cement amulets extremely beautiful, but now are all covered in colored growths because of the sacred ingresients and chanting. This is what happens when an amulet becomes sacred, and this is the kind which thais consider to be the real amulet with powerful magic. Only a thousand or so were made and first and only edition, so one day wil be extremely rare and valuable
3 miracles have already occurred where guns were shot at a devotee but did not go off. The are gunstoppers meaning not that the bullet doesnt enter you, rather that the gund doesnt even get to shoot.. the trigger is pulled and nothing happens!
Enjoy the pics, notice the one with LT Liam on the roof with his arms in the air.and see what a good hearted laughing monk he is! See the cleared area of land and the beautiful lake next to it. When this food hall is completed, just imagine how nice it will be for passers through to park their vehicles and have a free picnic at the Free food hall of wat suan manee sap (i think we should name it "Roeng Taan Prawes Sandorn, which i am suggesting to LT Liam – Prawes sandorn was one of the previous lives of Buddha, he was a prince who built a food hall in the centre of the city and let all his people eat for free. Prawes Sandorn was the incarnation where Buddha completed one of the ten perfections [that of dhana/giving] which mother earth served to witness when Mara claimed to be more meritorious than the Buddha).
Lets all have some of the good karma in making the free food hall and also help opurselves in attaining the perfection of dhana. We will never attain enlightenment before completing the 10 perfections, so lets start right now with the Roeng Taan Prawes Sandorn ok people?
come on free your hearts and get your hands in your wallets and help this wonderful monk and wonderful cause. You never know the next time you drive south when i thailand you might decide to get off at wat suan manee sap and eat for free and youll be able to think "i have a part in the merit here" it is one of the greatest merits you can make and the blessings are uncountable which you shall receive, believe me, you shall never be poor, never be hungry, always have friends to help you, metta will follow you wherever you go and you will be safe from illness and danger. Apart from this you will have a still, calm and easy heart with no disturbances.
Pra Atigarn Liam Catamaloe, Wad Suan Manee Sapt temple,
Moo 7 Thambon Saluy, Ampher Ta Sae, Chumporn Province.
Bank info;
Government Savings Bank (Tonakarn Awm Sin), 244 Moo 16 Petchagasem road
Here is the full Bank Transfer and Adress of Temple in English and Thai so you can easily donate or visit the Temple.
LP Liam Adress and Bank Info
Ta Sae branch, Chumporn 86140
Account Number
086104200400454
Account name; Wat Suan Manee Sapt
Download Bilingual adress and bank transfer info CLICK HERE
25% off on ESET NOD32 Antivirus, 2008 Consumer Digest "Best Buy"

Tam Bun Chuay Luang Dta Krap! ??????????????????? ?????????????????????????? ??????????????????????
Dont forget to scroll below each picture in the galleries whilst viewing as i have written comments to most images