Modernity counteracts magic tattoos in Cambodia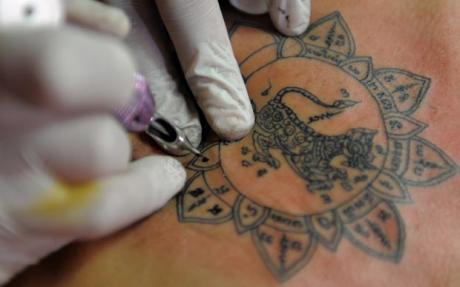 Excerpt from an article in the Daily telegraph by Kounila Keo, in Phnom Penh
"I do have one tattoo of a python on my right upper-arm but it's for beauty, not magic," says the 30 year-old from the outskirts of Cambodia's capital.
"That's because I can't find anywhere in my town to get a magic tattoo."
Over many centuries Cambodians have endured numberless hours of procedures to obtain hand-drawn mystical tattoos believed to give them magical powers, but the tradition appears to be fading in this increasingly modern country.
Miech Ponn, adviser on mores and customs at Cambodia's Buddhist Institute, says magic tattoos are believed to bring good luck or popularity but are mostly used by soldiers seeking to become invisible to enemies or repel bullets.
"Tattoos were really popular among Cambodian men in the past. Almost every Cambodian male was tattooed," Miech Ponn says.
[ad#widetextsimoine]
These days, he adds, superstitious people in rural areas are usually the ones who believe in magic.
Image by Getty Images via Daylife
"Until now science can't break this superstition. I don't know why it cannot."
Chan Trea, a tattooist, says that the the number of customers seeking him out in the belief they will obtain special powers has dwindled over the past decade.
"Usually, the Cambodian customers are police, soldiers, and fighters like boxers and martial artists," Chan Trea says.
"But there is a decrease of people coming for magical reasons. I guess, in the future, things like magic will be very rare in this country."
Read the rest of the article on Daily Telegraph.Co.UK
Related articles by Zemanta