The second Book on the Sacred Geometry of Yant is now in progress, but shall be much more historically, culturally and design orientated than the first book, which was more of a basic – intermediary look at the sacred geometry of Yantra applied as tattoos.
The topic of Yant goes much deeper than tattoos however, and so the second book will not only look into the tattooed aspect of the Sacred Geometry of Yantra. Sak Yant tattoos will however be looked into historically, as to the origins and cultural aspects of different forms of sak yant in different provinces or in different Eras. This will be the most difficult to uncover and document, but i am slowly uncovering new information and putting things together.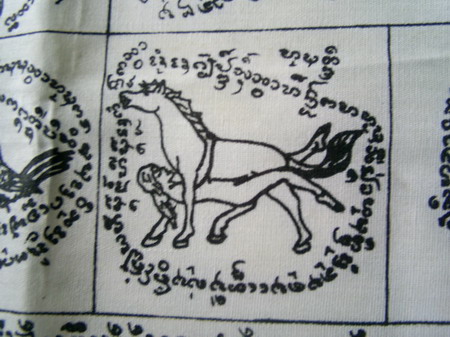 The main focus of the second book will be on the Lanna Tradition of Yant and Agkhara lettering. The Lanna Agkhara is different from the Khom Agkhara, and the second book will be revealing a deep look into the Lanna Wicha of Yant, and Magical methods. In addition, Mon Wicha will also be looked at, and i shall attempt to delve into some of the Mon Tradition of Sacred Yantra.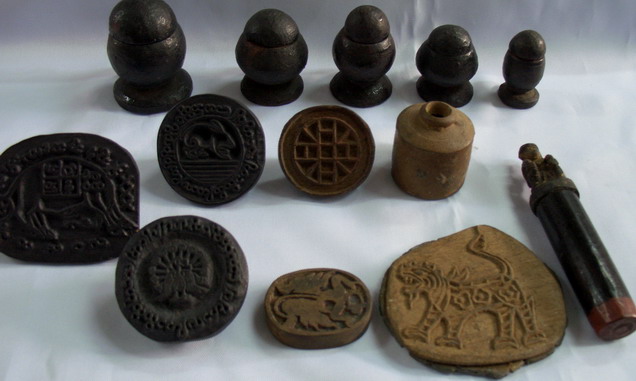 Yant designs will be included in large numbers – i hope to present Yant and Kata from ancient lineage sources that i have not covered till now, and to show some contents of a real Kampir Yant from an Ancient Lineage, and to investigate its contents and magic spells.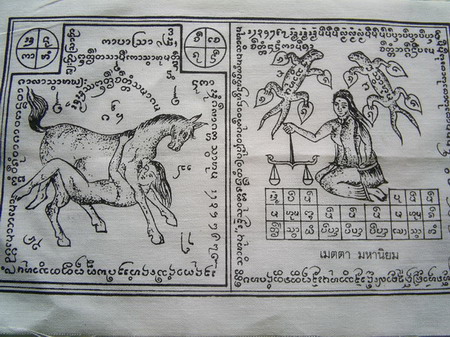 Issue 5 of Buddha Magic is also slowly beginning to take shape, and will be the final issue of the set of five books, completing all articles, and the series for now.  I have also now reopened the options for people to purchase single issues. You can get both the first sak yant book and the Buddha Magic Ezines on the Thailand-Amulets online store which allows instant download on completion of payment through a safe https server automated secure system which is powered by amazon.coms ecwid program.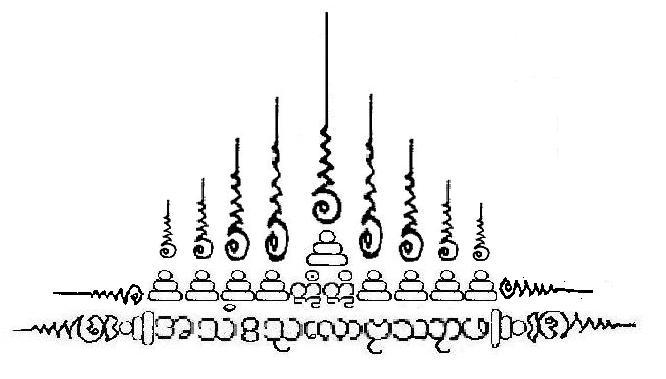 Above; Mon Tradition Yant Gao Yord with Mon Agkhara lettering
Buddha Magic will continue again at a later date, after i have managed to advance with the Sak Yant Foundation Project and developed facilities for study and practice. Right now,. i have already managed to donate and find other donators to buy 8 meditation tents for people to practice meditation retreat in the temple next to my ashram, and i have drawn up a timetable under Luang Pors instructions for ten day courses which can be given on Koh Lanta at the Temple.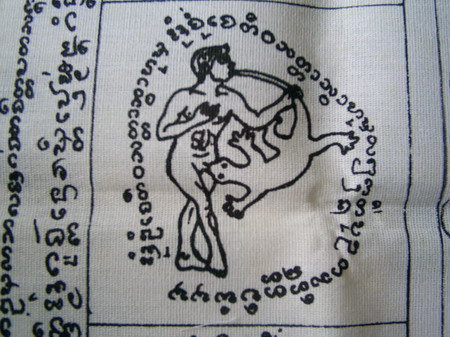 Above Pic; Yant Maeng Kin Ham – Maeng is a beaver or otter-like animal, and 'Ham' means penis
Maeng Kin Ham means 'otter (or similar) eating penis Yantra'
The plan is now to keep the foundation premises here in the South for the moment, on the Island of Lanta, because i am not wishing to be in Bangkok, where it would only be possible to have a classroom and make sak yant, but is impossible to practice meditation and magic. Anyone who thinks they can learn Khom and Sak Yant and that is magic is wrong, there is no Magic without Mind Power, and without Meditation practice there will be hardly anything happening.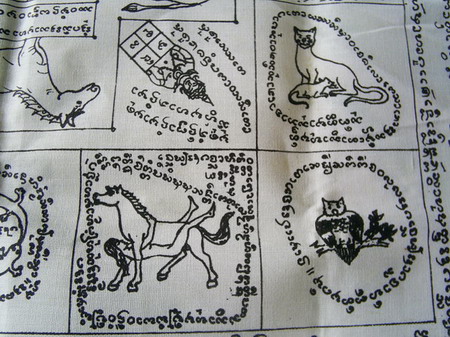 Above Pic; (top right to bottom left); Yant Nok Kao Maew and Yant Noo Kin Maew, Yant Ma Saep Nang with Lanna Agkhara lettering. The Northern Tradition is extremely rich in Wicha
The basis of teaching or learning the true practice of Buddha magic, is not to learn KHom and how to tattoo or make an amulet mixture etc, it is to learn how to understand the flow of magical forces, and then to use them with your mind.
All the rest is just icing on the cake, or peripheral paraphernalia (wand, bowl, robe etc). The real magic lies within the Mind, and this is where it flows out from also. So with the Knowledge i have attained so far from practicing, and following the path of the True Great Ajarns, i have awoken to the fact that my Nationality has nothing to do with whether i am qualified or not to know about this matter of Thai Buddha Magic.
What is necessary to know about this Occult Matter, is to have delved into Magic, and practiced it, as well as to have delved into ones own mind, and found where things spring from. If you can find the power within your mind, then you can use the Agkhara script or even japanese or roman script if you like – and it will work.
What i am trying to suggest is, that the reasons i choose to make the premises of the foundation in such a far-from-Bangkok place, is that;
1.Here in the wilderness we have plenty of space for solitude and practice
2. Bangkok is impossible to feel the Kammathana spirit and practice Meditation and Austerities (Ruesi-ism)
3. If people don't visit because its too far away or doesnt fit with their timetable (diving/rock climbing/ full moon party), then they are not truly interested, and i wont miss that kind of visitor.
I would rather have a true Ashram dedicated to revealing Thai Occult Mysteries and even opening the path of practice, as well as promoting and preaching the Dhamma and assisting to have Buddhist meditation retreats at the Temple of Wat Koh Lanta.
There is opportunity to perhaps rent or purchase land in the forest and build meditation huts, and slowly make  a forest Ashram for Ruesi-ism
People who feel the call of the Dhamma and the Maggha (Path to Nibbana) can then approach the temple and consider Ordination as a Buddhist Monk, if they feel the calling, it is also a possibility.
The creation of a Museum is not something i need to have loads of famous Thai Ajarns coming to the Foundation for. I do dream of and can make happen, that we have Ajarns coming and making ceremonies. Unfortunately i see a danger of money coming into the matter too much, and my personal path is, that i have found a way to feed my family that frees me from having to use the Ashram to make any money. I like it like this because then its an Ashram for practice not a Business enterprise. I have my Business practices which i use to fund these projects. The E-books also help me to stay afloat. In this way the Sak Yant Foundation and my Ashram can remain free of any need of donations.
I shall continue to publish my thoughts on the creation of the Foundation as ideas and thoughts change and coagulate
Because i am financing and doing all the main work myself i feel the decision is mine to make for now, and i must be in my Ashram, so the Foundation should incorporate in my Ashram first, until i can find another way. I know that i am the one who has to get the thing on its feet, and that true assistance and support will only come once i have everything in place first. I expect no assistance and am prepared to finance and do it all myself, for i know what i am doing, and in which direction is the correct one to go to preserve the integrity of both my Ashram and of the Wicha.
---