Bad news first, good news after;
Bad News – After being unable to raise the reader count of Buddha Magic ezine to over 30 and 4 issues of 2 months work each issue, I have had to lay the Buddha Magic ezine on ice for a while, due to its unfeasability because of lack of readerships. This is i find a great shame and proof that the sak-yant interested peole do not interest themself enough to purchase, and only wish to see free pictures etc, but not really learn the inner secrets of Buddha Magic. This is not surprising as i find that this is a very niche topic and few people indeed will be so interested as to pay for the info. Still, Sak yant Fans have missed a lot of essential info which i shall never publish for free on the internet, and will probably stay with the few who were wise enough to read it. Issue 4 (last issue released) featured three major articles on sak yant with sak yant masters and their work/biographies in detail. Yantra designs were also included which are not on the site, and the plan was to include at least 30 pages an issue of sak yant related infos. I shall be finishing issue 5 to complete the whole series of stories and then recompile the 5 issues into one ebook, which will also go to print one day soon.
Good News – In the meantime, i shall now begin work on a more extensive book on sak yant again, and will attempt to include hundreds of designs. The introduction to the subject has now been covered in book one, so the second book can go onto focusing on documenting designs and meanings, and the many Ajarns who are to be fund around the country. I have closed sales points of Buddha Magic issues 1,2 and 3, and now only sell issue four as a single issue, and the four issues as a mega pack. This may seem mean, but if o dont do this, then the 8 months of hard work in writing this ezine will not bring any noticeabvle income at all. I wish to complete my manifestation of a phsyical address for the sak yant foundation, and this ezine was part of the plans to finance the project. It is not working, but the sak yant ebook is still selling and has sold perhaps almost 300 copies now, which is also not much but at least has paid for the months it took to write.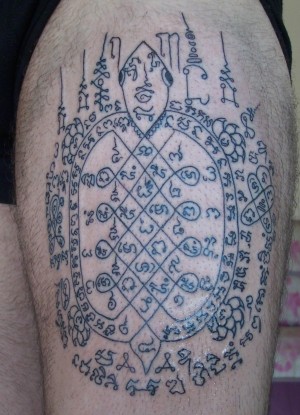 Great News! – I have now found 100 thousand dollars which i shall be investing in the foundation and attempting to make an ashram/samnak Ruesi which will be a center of leanring and also a Headquarters for various Masters from around the country to come and guest and tattoo their looksit in the Bangkok area, and join in in ceremonies such as Wai Kroo, Shiva day..
I am now about to obtain a premises and begin phase one of the development of the sak yant and Buddha Magic preservation institute (along with the collaboration of Ajarn Thoy and Various other Ruesi and Ajarn Sak Yant from around Thailand).
The premises hopes to be a three or 4 storey building with the reception and museum of Buddha Magic below (and the office of Thailand-Amulets.net)
As a way of avoiding relying on the sacred for funds, i shall try to affix a separate modern tattoo studio adjoined to the bottom floor area (this will bring money for financing the non profit foundation). I hope then to make the seocnd floor the samnak sak and ashram where sak yant will be performed and also ceremonies and meditation sessions. Weekly Wai Por Gae sessions and Wai Pra Rahu will be held as well as Wai Taw Waes Suwann in my corner (My Lineage has Taw Waes Suwan as patron, not Por Gae Dta Fai).
A museum with many old grimoire books fo sacred yant from history and sak yant tattooing equipment, antique ceremonial paraphernalia etc.
A library of Buddhist literature in English and other languages will be accumulatesd as well a some working overtime to write and print descriptions and synopses for every item in museum and picture on the wall in the galleries for foreigners to read and understand what they are admiring 😀
Classrooms are planned to be on third floor (or in the ashram/samnak on the 2nd floor if i get a 3 floor house), with courses available in Khom Sanskrit reading and writing, and even apprenticeships in sak yant tattooing. This however is not something you can apply for easily, because you cant just pay learn and go. It is compulsory to complete and pas the Khom Sanskrit course before beginning anything to do with sak yant. This is because, if yu cant manage to learn Khom Agkhara lettering, then you can forget about tattooing sak yant.
Sorry about the next part of this post.. but sometimes it must be said. After conference with some other Ajarns, i thus write it here for the Public to read about, and hopefully comment on their views agreement or disagreement. Suggestions or requests to include things for the sak yant foundation project are also welcome in comments below this post.
Buddha Magic Mega Discount Pack – First Four Issues
$45.00
Bad News – A Farang who visited, who has been tattooing and posting pics of his Yant tattoos on facebook. I was at first supportive and encouraging, until he came to visit and wanted to meet. His idea of being a looksit meeting with the ajarn who he wanted to ask for teachings from (how to empower the Yant), entailed sending sms messages from 20 kms away in his hotel (yes this guy was asking for Wicha and expecting to drive and travel to see him – not the other way around! ) – he showed his inability to pay his dues right there. Once arrived, he didn't even offer a glass of water but asked constantly if he could come and learn Khom and how to empower the yant.
His big eyes bulging, looked into his heart with the training recieved from the Masters, and seeing, that he had only personal fame, advantage and money through faked carreer opportunity in his heart, and there was no will or effort present to suggest he would be able to make an effort to learn the Khom Agkhara. Laughing inside, thinking.. 'Mai Mee Panya Ai Nia' ('this guy has no wisdom or intuition and is full of want and no giving.')
Telling  him he must learn Khom if he wants to do Sak Yant, and that every Thai Looksit and every Ajarn Sak must do this and pay his dues. If Thai people have to pass this test and pay those dues, then how can some westerner come along and start tattooing sak yant without first learning Khom according to the Dtamnan Saiyasart Thai? Making Sacred Geometric magical inscriptions from a Lineage of Masters with absolutely no consideration, with totally wrongly written Khom Agkhara lettering. Like a blind blunderer, disrespecting the ancient tradition of apprenticeship and trying to jump past the hard work and only reap the rewards.
Commenting on his tattoos posted on the sak yant foundation wall, exposing the fact that although the tattoo he posted looked nice to someone who can't read the lettering, but to anyone who can read Khom, the thinigs are abominations!
The person in question owns several tattoo studios – looking into his heart, seeing if not denounce this, then many will soon be making claims that they have recieved Wicha without passing the proper initiation process. This is tantamount to destroying something Ancient and Sacred.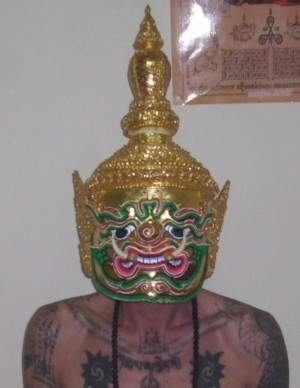 I personally don't approve of this kind of behaviour (not that what i think is of any importance), and wish to ask the western tattooists to refrain from tattooing any Yantra unless they can read the language. It is unfair to your customers because you are going to make a big mistake on them and insult Thai Ajarns and the Kroo deity of the Wicha. I don't want my attempts ant opening this up to the western world to be blocked because Farang come and abuse it or disrespect it. I must get the Foundation on course and keep it true to the Dtamra (tradition). People like the person who tried to market himself as an Ajarn Sak Yant without even learning how to write the lettering is not uncommon. Be it Farang or Thai, there will always be a certain number of fake Masters around. This is why sufficient circumspection and intellect/wisdom must be applied along with common sense, when seeking an Ajarn or receiving a Sak Yant Tattoo.  One thing i would really like to repeat after a long time without mentioning it; Don't be fools and take your design to some Artist to do for you. It will be wrong, and you will regret it.
I was speaking with some other Ajarns yesterday about such weird characters and ghostlike scavengers who try to hang on Sak Yant like parasites, and all of them agreed with me that things such as this, and stories like that of person who was tattooing but cannot write Khom (lol – funny but also an offence to the Wicha – one Ajarn said to me that if the Kroo was not so full of Metta (compassion) then some of the people abusing the Wicha would be very sorry indeed, because his magic is immense majestic and overwhelming – if the Kroo of the Wicha were to punish those, there would be more than sparks flying – But the Kroo Por Gae is full of Metta, and always warns in preference to harmful response) are extremely offensive and damaging to what i am trying to achieve here. In recent times i have tried to refrain from showing my opinions, approval or disapproval of things in the sak yant world, because i am no longer just a documenter, i am also now a practitioner, and thus must refrain from commenting negatively on the topic if possible. But sometimes it is necessary to cut weeds, if not the flowers wont grow.
The aforementioned incident is one such case. I no longer get angry with such people because they are simply dumb, or perhaps only ignorant of the fact that this is not just tattoo art, rather a Sacred matter which Thai People and many other People from other countries believe in and have much reverence and faith in.  so i cannot expect Dumb people to be able to behave well. I wouldn't expect a pig to wipe his feet before entering a house so i also don't expect a half wit to understand the rules of becoming an Ajarn Sak Yant. The process of becoming an Brahman, Ruesi, or Ajarn, is a long path of dedicated practice not inferior to many of the practices of a Monk as far as Development of Mind and the Powers is concerned, and only inferior in the sense that the true good Bhikkhu is practicing renunciation and purity until hos mind has developed the Baramee to overcome the Kilesas forever. There is no higher miracle than this, even the amazing superpowers of some great Masters cannot supercede the attainments of the Arahants.
Sak Yant Buddhist Tattoos
$40.00
Now.. on to the bombshell…..
I will announce what i believe to be the greatest news about sak yant tattoos (as far as westerners are concerned anyway) ever soon (cant reveal it yet, lots of copycats around). Something which will change the story for all those who wanted a sak yant but were too afraid to for safety reasons, and improve the prospects of the survival of sak yant in the modern age. As well as increase the amount of Westerners who come for Sak Yant.
Keep your eyes and ears open for my next announcements.. pretty soon you will all have a place to come and hang out and visit and learn about sak-yant and Buddha magic, meet the Ajarns and be able to speak wityh them (translator) and have access to both receiving magic, and leanring it. Meditation and Buddhist Dhamma practice (Vipassana) courses will also be held with visiting master monks and Ajarns to teach ( yes i will also give talks for those who want to hear). I shall preside over the Khom school and me Ajarn Thoy will be teaching other courses together. Some other Ruesi and Brahmans, Monks will visit regularly too. I am still thinking of the potential of the place and what we can do. A minibus may be good idea for outings to other wai kroos etc and to go on forest retreats etc. Sak yant Guide service may also be available because i need as many ways to find funds as possible. I dont want a little halfway thing.. i want the foundation to be as big as it deserves to be, so i have turned from being an ascetic destitute to a business man in one year flat. I still sleep on the bare floor and eat very little each day (just to stay alive – have exception days though.. i am after all still a normal person), and don't even have tv video or sofa in my house (not even a chair). This even after receiving 100 thousand dollars funds in a windfall i am still living sparsely as always. The funds are to make the foundation. The top floor will be the home for my wife and son (and me), bercause they are giving up their dream home and living in the premises with me so i can make this dream true. I hope one day i shall be able to give them their home they need,but for now i have to make this happen because if i don't start now, then maybe i never will.
Please make an effort to attend the Foundation Center when in Thailand – you will be able to book appointments for sak yant with various masters through the center too, commission special designs, learn Khom, learn amulet making, learn Kasina Meditation (essential for Ruesi practice and for amulet empowerment). The various possibilities are many, depending on if there is sufficient need for its implementation.
As a sideline and fund finder, i now offer the Thailand tattoo school project which will be in the modern tattoo studio section of my project and will offer courses in professional modern and hand tattooing techniques, hygiene and machine care, various techniques of shading, coloring and lining, tricks of trade etc. Anyone interested in learning to tattoo professionally can apply for a course there. I do hope to also eventually arrange special accommodation for people who come to practice or learn at the institute.
Sak Yant E Book + Buddha Magic 1 – 4 (Five Ebook Megapack save 12 Dollars)
$83.00
Regards;