The first edition of Buddha Magic E-Mag publication is now underway and in progress. I have learned a lot from the creation and writing of the Sak Yant Buddhist tattoos E-Publication, and am beginning to achieve a uniform and streamlined look for the E-Magazine.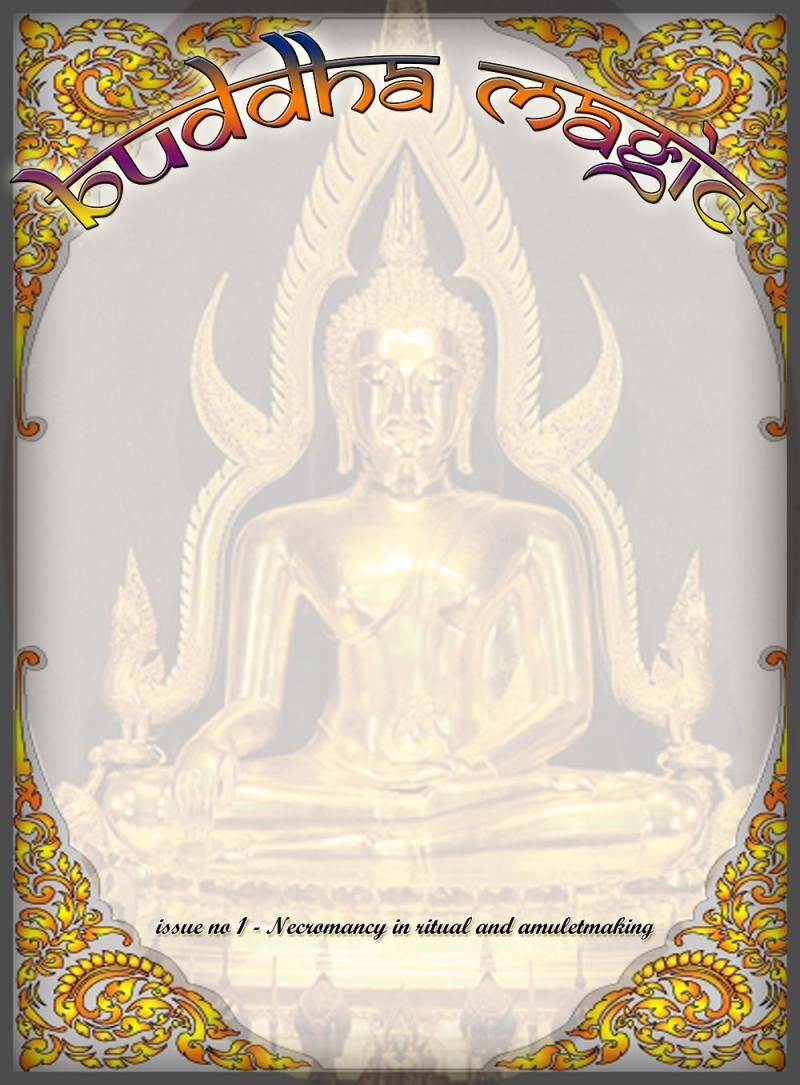 Here are a few screenshots of some of the pages included in the first issue of the e-mag, which will hopefully be released for download at the beginning of September, or mid September.

For those who don't know what i am talking about, Sak-yant.Com now offers Sak Yant, Saiyasart, Amulet and Buddhism related publications as e-books and e-magazines. I am writing these manuscripts and articles as paid e-subscriptions because i find it is enabling me to research much more and write much better articles that when i was just publishing free info on the website.I am still going to keep adding and publishing new info on the website too, but for those who really wish to get the best and most detailed info about sak yant, as well as other fascinating peripheral topics such as amulet creation and history, magical ceremonies and rituals, and other Thai Supernatural matters, will be able to obtain one of a kind information as collectible e-magazines in three hundred dpi pdf format which you can even print out in high quality for archiving on your bookshelves if you like.
[ad#wideadaqua90x728]
I do hope that i can make the e-mag as often as every 60 days. The e-mag will be called 'Buddha Magic' and is the pilot for an eventual three separate e-mags (if i get quick enough to type that fast). I don't know yet what the price will be, as i normally decide that after finishing the issue and compare how much energy has gone into it, but i am thinking that a 50 page e-mag with color pics might go for 12 dollars US. I feel that this is not expensive because of the rarity of the content and the difficulty i have had in researching and obtaining/translating it.
My First Publication is already out on issue and can be purchased by going to the E-Publications page

In the first issue of the E-Mag, the 'Dtamnan' starts with the first Chapter dealing with the creation method and complete synopsis of Nam Man Prai oil, which is used in the making of Gumarn Tong, Khun Phaen amulets, In Koo charms,and many other Sacred magical artefacts. Katas for all artefacts mentioned in the Mag will be given, along with (hopefully) links to sound files or embedded sound files (if i can figure out how to do this), to help pronounce the Kata properly whilst chanting them.
'The story and legends of Pra Khunphaen and Khunpaen Amulets', is the second article which follows on from the article on Nam Man Prai oil – they are related and connected,so each article is about something which was mentioned in the previous article.In this way, your knowledge and understanding will grow with a clear overview of the relationship between the various magical methods and objects used in Thai Saiyasart…
The third article will deal with In Koo effigies See Pherng balm, and other artefacts which use Nam Man Prai as their method of empowerment….
After this i shall add related content up to reaching about 50 pages or so. I am not yet sure what the rest of the E-Mag will include, so you'll just have to order one to find out all the juicy info.
[ad#email-subscribeform]
Other upcoming content includes an E-Book on the Thai Ramakian (Ramayana Epic myth), which i hope to complete the whole story in English this year or by march of 2011 if possible.
Sak-Yant.com is going to have a lot more great info available because of this decision to publish e-books, for it means that i can allow more time to dedicate to sharing knowledge. I have a family and feel sure that the Buddha would tell me that to take something for my time and effort is a natural necessity of the world, and that it is what is in the heart that matters, whether i cling to material things or not. I seriously would in all honesty love to share everything for free with everybody, but we all have our burdens to carry,and i also find that the motivation to make a great effort to write quality material for you is increased by the fact that i am going to be reimbursed for my publications (some of them – the website will always be free).
I know from the responses and replies i have had from those who have bought my first e-book, that my articles are of use and interest to somepeople. Even if i only have 50 people who are interested enough to buy my publications, this is enough for me to carrry on with, for i am not and have never been a greedy person.
I honestly hope that i can manage to give much pleasure to those who purchase and read my manuscripts
Thanks to all of you who bought so far for the support and compliments
Regards Spencer Littlewood