Here is a little look into the Wai Kroo master Day ceremony, which I celebrated at my home ashram on 6 March 2557. All people who receive Sak Yant tattoos, as well as devotees of the Lersi Hermit Gods and Occult Sorcery, must according to tradition receive the laying on of the Lersi Khone Mask (Siarn Kroo), and attend or perform the Mass today ceremony which is known in Thai language as 'Wai Kroo'.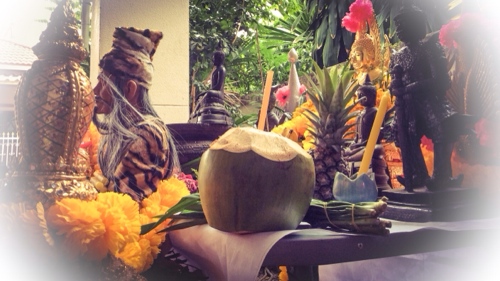 I took advantage of the occasion for boiling all of the Amulets I have made over the last year and been empowering, to boil them in sacred oils and perfumed oils with other sacred Amulets I have collected from a host of great masters of modern and ancient times.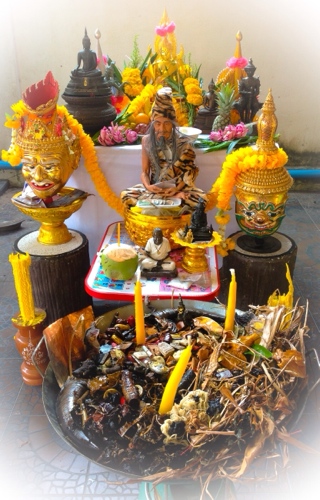 I must admit it was very difficult making a private master day ceremony, because one had to do all preparations, setting up, incantations and all the activities, and the clearing away of everything afterwards all by ourselves (2 people). I decided to hold it privately and unannounced in order to customise myself with self conducted performance of the ceremony, and to accustom myself to every facet, and aspect of the preparation and performing of the ceremony.
I prepared a cauldron, inscribing sacred geometry designs on the surface of it beforehand, in order to empower it with the Wicha for making See Pheung.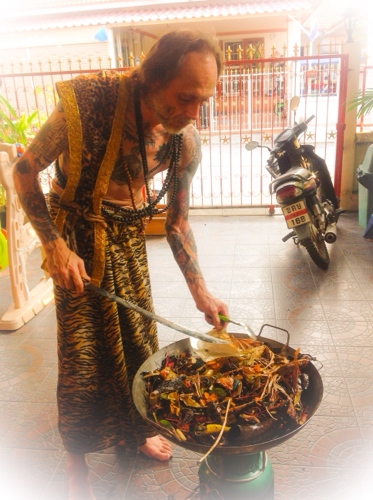 I used a mass of dried sacred herbs, woods, and other natural substances, as well as Amulets and elemental materials, such as Lek Lai Kaya Siddhi elemental substance, Holy treewoods, sacred rare forest flowers, powders and oils, and other kinds of amulets. These Amulets came from from an array of ordained and non-ordained masters of sorcery.
Nam Man Prai, Kumarn Tong, Monk Coins, Muan Sarn Sacred Powder amulets such as Pra Somdej Luang por Toon Wat Po Nimit 2512 BE, Pra Kong Chai Chum 2512 Ajarn Chum Chai Kiree, Pra Nakprok Taep Nimit 2496 B.E. Ajarn Chum Chai Kiree, Jatukam, Por Tan bam amulets of Wat Don Sala, Yantra Foils, Ploi Sek Maha Pokasap polished Gems, Takrut, elemental substances, Wan Salika, Wan Sanaeh Jantr, Wan Nang kwak, Mai Ga Fak Rak, Fak Ga Hlong, Lersi Rosary beads, Somdej, Lersi Por Gae Dta Fai amulets, Luang Phu Tuad amulets, Lersi statuette on naga throne, Somdej Luang Por Supoj, Wishing crystals, Jing Jok gecko amulets and gecko oil, and sinjana cords from suad pan yaks ceremony from Luang Por Suton.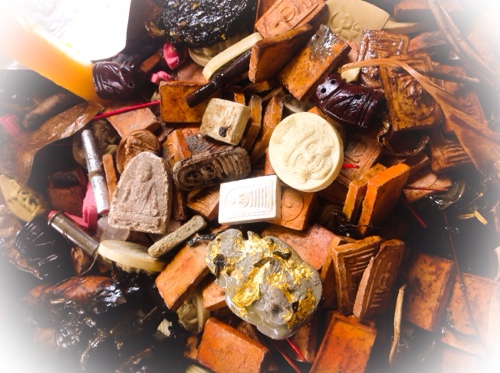 In truth, I cannot really remember many of the sacred items which I have gathered over the last three or four years in preparation for immersion in these oils. At first I thought I would make sacred Metta Oil, but in the end, I realised I had hoarded and stashed so many herbs from my sacred herb garden, that it outweighed the amount of available sacred oils which I had put aside for this purpose.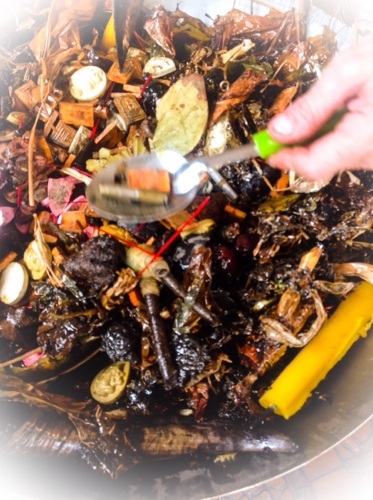 Hence I decided to change my strategy, and to risk the experiment of my life, which I have been thinking about and contemplating its secret methods for the last year at least. I am actually halfway through an article, about how to make the essential See Pheung Balm, which is so waxy and thick, but which i have seen distilled from a cauldron using herbs and Nam Man Prai. This video I made some months ago, shows some of the Amulets which were immersed in the Cauldron during this Wai Kroo.
I possessed 90% of the secret methods, but it was impossible to find the actual catalyst which would transform the oil into a thick paste or balm, as we see in the case of See Pheung.
The rest was already ingrained in me over years of study practice and experimentation, from the ingredients to mix and its other formulas and the sacred geometry of Buddhist Yant to be inscribed along with the Khmer Sanskrit spells upon the surface of the cauldron, before adding the oils and herbs. The incantations of the mast today were already known to me and prepared to chance to invite the celestial intelligences to attend and to lend their blessings to the ritual ceremony.
I cannot reveal what is the missing secret, which transforms and catalyses the formula into becoming a thick paste which we know as See Pheung. But, I can say that the outcome was successful, but also, that the high density of herbal, and other sacred ingredients, has resulted in extremely concentrated form of See Pheung, that I have decided to do what many sorcerers in Thailand will do with the substance, and dilute it, with other perfumed substances.
This is done, in order to make it possible to apply, and affordable to distribute. I must have invested about at least $1000 in making this cauldron of oil, whole 5 Liters of Sacred Oils, perfumes and other liquid substances of magical nature. The result, was a half litre tub of sacred See Pheung balm. From a whole cauldron full of herbs and 5 L of Sacred Oil, we have ended up with about half a kilo of extremely concentrated See Pheung.
One thing which I have forgotten to reveal until now, is the fact that I added a whole litre of Nam Man Prai Hun Payont, and A large wooden animist humanoid effigy made from Sacred Ga Fak Rak tree, bound with sinjana cords and empowered with reanimation spells by Por tan Kloi of Wat Phu Khao Tong.I made this oil some months before using the remnants of three other Nam Man Prai oils to mix together and then immerse the hun payont ghost soldier along with a goosebone yantra spell, lek lai, loads of sacred woods, herbs amd other amulets. This was poured into the cauldron to and used for empowerment.
I hope you enjoy viewing my private home ceremony and that it inspires you, and gives you ideas about how to set up your altar for such a ceremony. Of course this is not the full blown version, rather and affordable and practical, realistic ceremony for a small family at home in private.
Thee large Yantra foils were immersed to perform differing purposes.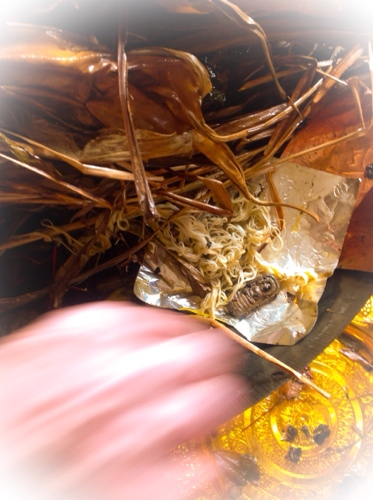 The Amulets which were boiled in the cauldron, I'm now being laid out to dry every day until they can be encased, and I shall be distributing them to both customers of my amulet store at Thailand Amulets, and also those who interested themselves for my publications, my podcasts on soundcloud, and my YouTube channel, as well as many of my Facebook friends.
Almost all Amulets I make a distribute for free, whereas those which were made to be solved by others, I distribute for a price for that is what purpose they were made for. The ones I make are not made for a commercial purpose, rather than to bring joy to others, nothing else.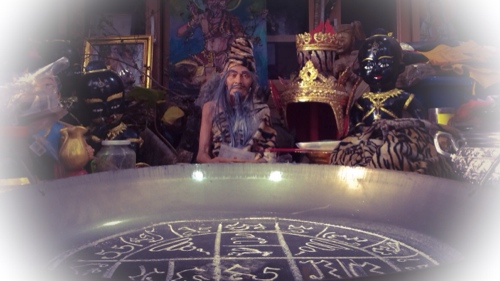 The cauldron was inscribed the evening before the ceremony, within the ashram.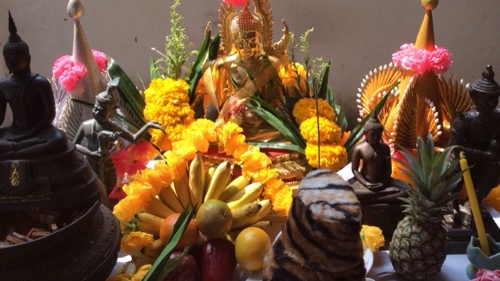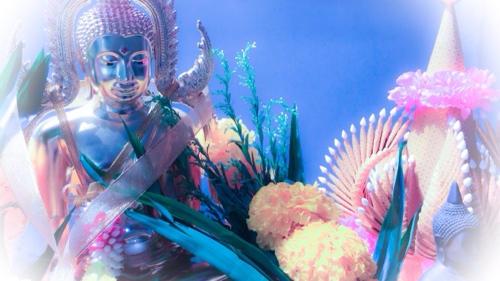 Edited with BlogPad Pro