This is Yant Paya Dtao Ruean – i made it a couple of weeks ago in my Samnak on Koh Lanta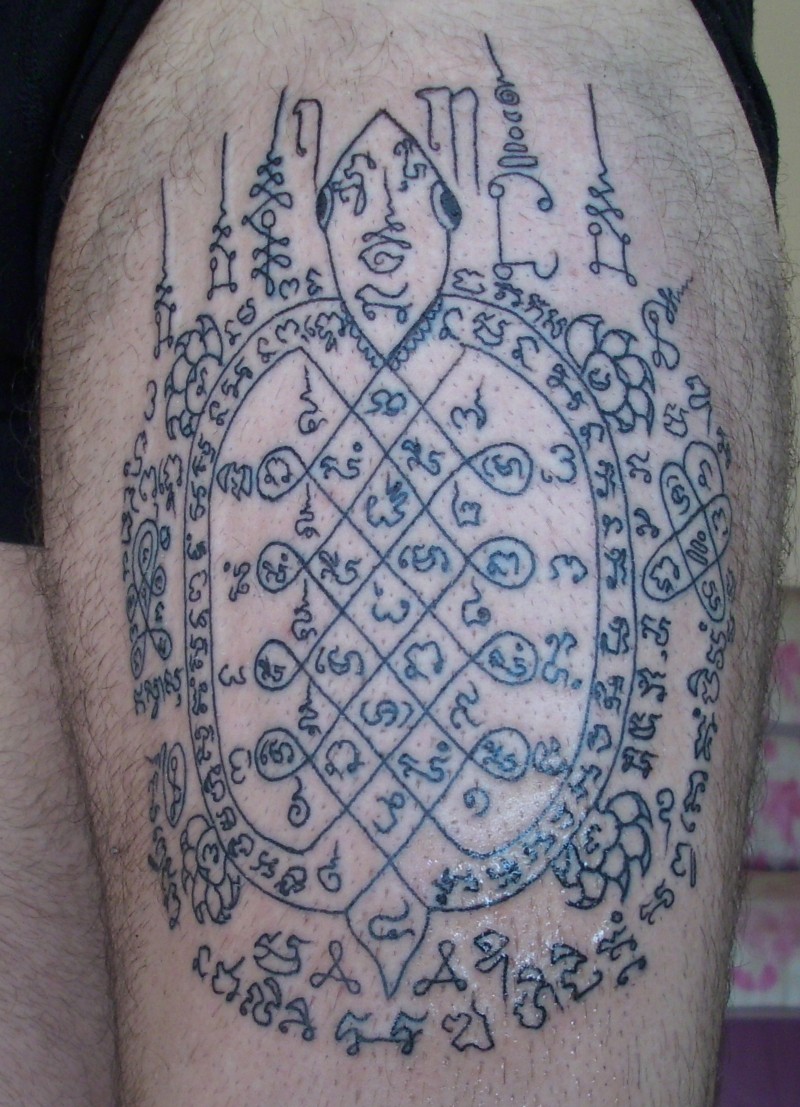 I used the design from lineage of LP Tong Sukh for the design, i like the composition of this design better than the LT Hliw one for tattooing at least.
Made in the samnak (in the making) which i am developing on Koh Lanta. This is defintitely a hygienic sak yant tattoo made using autoclaave sterilisation and new needles. We made some meditation before and i mixed the ink with some metta oil and the prayer water collected from 381 temples. Ongkorn Kroo was chanted (calling the 108 Ruesi , Buddhas and Deities to form a crystal wall of protection around the wearer of the Yant), and katas were blown into the tattoo during the whole period of tattooing.
The sacred Na designs around the Yant are freehanded in.
Samnak sak yant Por Taw Guwen is in the making…
Yesterday i tattooed majchanu (not yet blessed) and will post pics soon – the Majchanu was part of an ongoing project using machine tattooing to make Ramayana Mythological deities and imagery into a story which will then be embellished with some Khom Agkhara and blessed.
Why i'm trying to make money and what are my Plans;
Funds i raise through sales of emags  i write, amulets i distribute or make and rent, or tattoos i make, are going to help to pay for the creation of a samnak and place with meditation huts for visitors to come and learn and practice in.. its a long project. I have the help of LP Dte abbot of wat pah maha chanok and LP song chai abbot of Wat Koh Lanta to plan to find a way for foreigners to come and practice Vipassana., and this is one of the projects i wish to incorporate into the sak yant foundation project and the creation of my ashram ruesi Por Taw Guwen (Taw Waes Suwann).
Objectives;.
Sak yant should help us to practice the dhamma – therefore meditation will be held before every day of opening the samnak, and monks wil regularly visit to give dhamma teachings. The samnak will always begin with looksit and kroo meditating and say some prayers before starting the events of the day
amulets should help us t practice the dhamma, and not become an object of greed – they shold remind us to keep precepts.
Amulet making methoids and formulas will be collected and gathered for preservation.
Khom Agkhara should be taught, as well as sak yant and amulet making.
sak yant should be hygienic but remain ceremonial and traditional as far as the ritual and blessings are concerned, rules of wearing yant etc.
I wish to make a sak yant and Buddha Magic  museum, which i am finding very old and rare objects to place in it, but need to find money for buying them to make a real museum with definitive examples of historical paraphernalia.
I also am opening a tattoo studio in the front which centers on Traditional Thai Mythological imagery.
'Ramakian Tatto"
Buddha Magic Issue One
I am happy to announce that i have finished and released the first issue of my bi-monthly publications on Thai Occult, Sak Yant, Animism, Sacred Amulets (and their makers, how to make them etc), Buddha sculpture, Historical thai Buddhist articles, legends… Buddha Magic costs 12$ U.S. and has 70 pages in color with pictures. You can use the below Button to pay with paypal even if you don't have a paypal account. After payment, you will be taken immediately to the download page. I have done this to make it easier for you to get your download instead of waiting for me to send the link. Each link is counted and logged after you pay, so please dont try to share the links, because it will be noted along with IP adress.